From a West Kessler resident June 11, 2014:
We just recently joined North Oak Cliff Police Patrol and have already utilized them once. It was very convenient. We notice what appeared to be a homeless person camping out in our front yard. He did not seem dangerous, nor did it warrant a call to 911 or to 311 for that fact. Instead I called the direct number for NOCUPP and within minutes a uniformed officer arrived in a squad car and asked our "visitor" to leave. Well worth the money in my humble opinion.
The following thank you note was sent in by a member in Kessler Park??August 8th 2013:
Officer Name: Keith
Here's how this Officer helped me:
Keith is incredible to have in our neighborhood. He was so helpful to our family after a break in- He really took time to listen and suggest useful solutions to keeping our house and neighborhood secure. Kindness like his helps so much to rebuild confidence in our community after feeling violated by criminals. I'm proud to call him a friend. NOCUPP is awesome!
Thank you to DPD and NOCUPP
The following was posted 29 May 2013 by Dog Lady on the web site www.gypsydogops.com
As the spring membership drive kicks off, Gypsy Dog Ops proudly endorses NOCUPP and has finally has a chance to say thank you in person  with slobbery dog kisses of course!
Chankla shows her appreciation: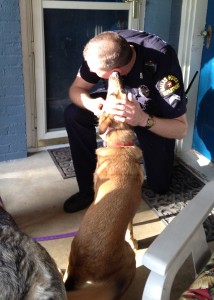 Why is a rescue site endorsing a neighborhood police patrol? Because it takes a village to solve the hard to catch / feral dog problems in Oak Cliff.
Last November when the dangerous feral dog pack returned to South Rosemont, it was NOCUPP, more than Animal Service, more than 311, more than any other city service, that had documentation of the pack, had cascaded the information to their officers, and had posted actionable information for WH residents.
When Animal Services was overloaded and too busy to come pick up a dog we had manage to capture by hand (a dog they had accidentally let go the night before while loading it in the van) – it was Officer Keith who immediately responded as he knew about the high priority status Scott Griggs' office had given the pack. Officer Keith finished up a calland then came to the scene and helped confine the dog in his squad car until Animal Services could arrive.
When I protested that we shouldn't put the dog in the squad car because the large dog might try to tear up the car, or worse, it might answer the call of nature in the back seat Officer Keith calmly said that there wasn' anything that the dog could do that a perp hadn't already done back there.
I learned wild dogs and perpetrators are very similar, so a police car is conveniently equipped to handle unruly dogs. It has a cage to protect the driver and can pretty easily be cleaned out with a fire hose if need be. Officer Keith's willingness to put the dog in the car and drive the dog to Animal Service himself, if need be, helped us continue to reduce the pack numbers and helped diffuse a growing aggressive dog problem.
So if you're wondering if you should sign up for NOCUPP this year, I can tell you first hand ??? NOCUPP understands the unique needs of your neighborhood and protects you and your family in ways you never dreamed of.  This is just one of many things NOCUPP has done, but this is the thing Gypsy Dog Ops would like to thank NOCUPP for the most.
This last weekend it was a great honor for us to bring the formerly feral, head of the wild dog pack, Tasha, out for a pet from Officer Keith. I know it is just as much fun for him to watch her grow into a domesticated success story as it is for us. We are very glad Officer Keith is part of our village.
The following Thank You Note was emailed in by a member in early March 2013:
I had a great recent experience that proves how useful this is.
About 10 days ago I left a message on the telephone line as advised about going to [out of own]  for a week and requesting supervision. I noted that I would be back in Dallas late in the [ date]
The next day late in the afternoon I was unloading groceries from the car to the house when I noted a Dallas police car driving on  [street name removed]  towards Kessler Parkway, it stopped and hesitated for some time before driving on.
I am certain that they knew that my house was under surveillance, decided that I was okay and drove on.
I'm so happy with my annual investment and appreciate your contribution so much
The following article appeared in the June 1, 2012 edition of Oak Cliff People:
Thanks to a neighborhood-supported patrol officer, a Stevens Park Village woman is able to rest a little easier after being the victim of an assault.
The elderly woman, who asked to remain anonymous, was assaulted in the early morning of April 30 as she was out on her normal walk. A minor approached her, grabbed her chest inappropriately, and ran off. She followed the minor before calling the police.
Luckily, a North Oak Cliff United Police Patrol officer was in the area. Officer Tad Hasse apprehended the minor and held him until other officers were able to transport the teen back to Pinkston High School, where he was a student, and issued him a citation.
Although the woman wasn't a member of the program, which pays off-duty officers to patrol certain neighborhoods, she said she was grateful for the man who caught the suspect. She said she sees the NOCUPP officers come by her home regularly.
Although Hasse apprehended the boy, he said the woman should be the one to thank.
She was the real hero, Hasse said.  She made the call and was able to give an accurate description with the way he was going. For all intents and purposes, we can only do our best with what we're given, and she did that.
Hasse has been patrolling Oak Cliff for eight years, but he has been on the NOCUPP payroll for only six months. He said knowing the area?'s nuances the streets, the people, the places criminals hide ??? makes the patrols that much more effective at their job.
I live in that neighborhood. It's a good neighborhood, and, like anywhere in Dallas, bad things can happen, Hasse said.  It's good that you have officers that work in this program, because they know everyone in the neighborhood. They know who should be there, and the people that need a little investigation.
Greg Hausdorf, a NOCUPP neighborhood liaison for Stevens Park Village, compared the program to KERA  some people pay for it, but everyone receives the benefits.
If we had more dues-paying members, we could pay for more patrol hours and the neighborhood would benefit even more from this supplement to the crime protection we receive from the Dallas Police Department, Hausdorf said.
Membership costs $1 per day. Hasse said NOCUPP has seven other officers on the patrol and offers a vacation watch for members. With the vacation watch, officers check the member's home once a day to deter burglaries while they are away. The number of households that participate in NOCUPP dictates each neighborhood's level of coverage.