October 16th, 2013

Posted October 16th, by Jerry Beech, NOCUPP President:

The fall membership drive is now underway.  Please be on the lookout for your renewal letter, and and if needed update your property information form with any changes.  We really would like to get email addreses for all members, since most of our communications go out by email.  If you have any questions, please let me know.

Thank you for your continuing support.

Posted November 14th by Jerry Beech, NOCUPP President:

Please keep those alleys clear

Some of the alleys in in our area are getting overgrown.  It's not just an aesthetic issue.  Officers of the North Oak Cliff United Police Patrol (NOCUPP) say that criminals can easily hide in the bushes, waiting for an opportunity to commit a crime or safely escape afterward.  Not only that, in a few alleys police patrol cars have a hard time getting through the alley to do their patrols.  If they cannot drive the alley it does not get patrolled.   Since a lot of people NOCUPP has encountered in the past in alley have been found with flashlight and screwdriver in hand (hmm…) or a long rap sheet of past theft and burglary convictions, we definitely want the squad car to pass through.  Keeping our alleys clear helps prevent crime on your block and keep burglars and auto thieves out of our area.

Fire trucks, utility vehicles and other emergency vehicles also need access to the alley even when it is not used by most residents, andthe City of Dallas occasionally decides to stop garbage pickups in a particular alley if there trucks don't have enough clearance to pass through without touching vegetation.  Once they City decides to stop trash pickups in an alley, it is a very hard process to get them to agree to do it again, even after your block cleans up the alley.

Cleaning up alleys is entirely the responsibility of the residents, whether you have a garage on it or not, so please take a moment to check out back, and if your shrubs need a trim, put it on your To Do list for this weekend!  It is a nice time of year to do a little trimming out back and next week (11/18) happens to be bulk trash pickup week.

August 5th, 2013

Posted August 5th, By Jerry Beech, President of NOCUPP:

There have been a number of recent burglaries and other incidents in the Kessler Park and the Sylvan Avenue corridors in the last two months. Please keep your eye out for suspicious activities and call in any suspicious people to 911 immediately. We need to get these people caught as soon as possible. In at least one incident the suspect rang the front doorbell several times and after not getting an answer, then went into to the fenced back yard and broke in through a rear patio door. The occupant was home at the time and had just had not answered the doorbell, so this could have turned out badly. Fortunately, the burglar ran off after confronting the resident.

Many of these incidents have occurred during the day of work weeks or over the 4th of July holiday period. If you are home during the work week, please keep an eye out for your neighbor's home. ??If you see anything suspicious please report it. Keep an eye out for people going door to door or driving slowly through the neighborhood checking out individual houses. Our patrol officers tell us that many of the people selling magazines door to door or offering to paint street numbers on your curb are actually checking out the houses on a block to burglarize at that time or a few days later.  If you know of an burglary or theft incident that occurs, please always call it into the police so that a record is made of it. Many people don't call incidents in thinking nothing will happen, which means the police, the North Oak Cliff Police Patrol (NOCUPP), and I don't know about it until the reported incidents start adding up as they did this last month. Also, it is not uncommon for the same people to come back and target the same house in the future since they are already familiar with it.

I want to emphasize that normally the Kessler area is very safe, but recent incidents have added up to a most of a typical year's worth of incidents. I suspect we have one or two individuals who are responsible for these incidents and who are continuing to target our area since they have been successful so far.   Before the end of June, we had only had one reported burglary so far this year in Kessler Park (which happened in January).

Air conditioner and Freon thefts are a recent trend in our area. Thieves steel the AC unit for the metal, or empty the Freon to either resell or get high off of. If you see anyone monkeying with a neighbors AC unit that looks in anyway suspicious, please call 911. Your AC maintenance company can also install anti Freon theft devices on the AC units (the theft of your Freon can cost hundreds of dollars to replace and potentially harm your AC unit) and it is also possible for your alarm company to install 24 hour sensors on your actual AC compressor just like they do on your doors and windows to call the police if your AC unit is tampered with. Another popular trend is steeling flower pots and chairs off of porches. Many chairs and pots are now very expensive, so this is a very easy crime that often goes unreported. In either of these cases theft can be usually be prevented by bolting your chairs or pots to your porch or walkway. If you have a garage or storage shed, PLEASE be sure to check that these are securely locked. Many garages and storage sheds are extremely easy to break into and these are the most common types of incidents in the North Oak Cliff Area. A shame that we have to resort to this, but minor thefts tend to lead eventually to the same people coming back and doing larger thefts in the future.
Recent Incidents

Date

Address

Neighborhood

Type

Description

Tuesday July 23rd

6xx W Colorado Blvd.

Kessler

Burglary

Suspect rang doorbell several times, when no one answered, the suspect went around into the gated back yard and broke into the sliding glass door at the rear of the house. Resident was actually home and came face to face with suspect who then fled.

Tuesday July 16th

8xx Salmon Dr.??

Kessler

Burglary

Suspect attempted to force rear door open, then attempted to force rear door and then broke small rear window and entered the house and stole laptop, stereo and other personal items.  Owner says suspect may be fairly small to have fit through window, and that long hairs were found.Incident occurred on a rainy day and no good fingerprints obtained.

Sunday July 14

th

838 N Clinton

Kings Hwy

Burglary

Burglary of Garage

July 11

th

11xx Kings Hwy

Kings Hwy

Burglary

Suspect broke window and burglarized residence

Sunday July 7

th

*

9xx Leatrice Dr.

Kessler

AC Unit Theft

Suspect stole home central AC unit from yard of house ???* theft may have occurred earlier holiday weekend

Saturday July 6

th

8xx N Winnetka

King Hwy

Burglary

Burglary

Friday July 5th

8xx W Greenbriar

Kessler

Burglary

Suspect forced open door and burglarized the hose.

Wednesday July 3rd

9xx W Colorado

Kessler

Burglary

Suspect forced rear door of house open and attempted burglary of house

Thursday June 27th

11xx N Winnetka Av

Kessler

Burglary

Suspect removed window and burglarized storage shed

Saturday June 15

th

10xx Turner Av

Kessler

AC Unit Theft

Suspect stole home central AC unit from yard of house

Saturday June 1st

6xx Shady Lane

East Kessler

Burglary

Suspect pried open front door of garage

Saturday June 1

st

6xx W Greenbriar

East Kessler

Burglary

Suspect attempted to kick in door
Please stay extra vigilant for the next several months and report anything suspicious so we can get these people out of our area.  It is better to make a suspicious person call to 911 then risk you or your neighbor being broken into.  NOCUPP members get direct access to the NOCUPP patrol officer's cell phone to report incidents, get assistance, request one of our officers to help review their home security vulnerabilities, or request vacation and constriction watches. If you can, please join NOCUPP and support our patrols.
The North Oak Cliff United Police Patrol is a nonprofit and member run volunteer organization that hires off duty Dallas Police to patrol our neighborhoods, in marked patrol cars that is entirely supported by member contributions. Most of the neighborhood policing in our area is done by the NOCUPP patrol. Members have direct access to the police patrol officers via a dedicated phone number to report incidents and can also receive vacation watches, construction patrols, or advice on improving home security from the patrol officers. For more information please see our website

www.NorthOakCliffPatrol.org

or feel free to email us at

nocpatrol@gmail.com

or contact me personally.
August 3rd, 2013

Officer Name: Keith

Here's how this Officer helped me:

Keith is incredible to have in our neighborhood. He was so helpful to our family after a break in- He really took time to listen and suggest useful solutions to keeping our house and neighborhood secure. Kindness like his helps so much to rebuild confidence in our community after feeling violated by criminals. I'm proud to call him a friend. NOCUPP is awesome!

May 1st, 2013

29 May 2013 by Dog Lady. Posted on the web site www.gypsydogops.com

As the spring membership drive kicks off, Gypsy Dog Ops proudly endorses NOCUPP and has finally has a chance to say thank you in person ??? with slobbery dog kisses of course!

Chankla shows her appreciation: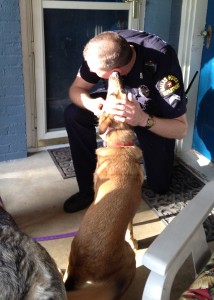 Why is a rescue site endorsing a neighborhood police patrol? Because it takes a village to solve the hard to catch / feral dog problems in Oak Cliff.

Last November when the dangerous feral dog pack returned to South Rosemont, it was NOCUPP, more than Animal Service, more than 311, more than any other city service, that had documentation of the pack, had cascaded the information to their officers, and had posted actionable information for WH residents.

When Animal Services was overloaded and too busy to come pick up a dog we had manage to capture by hand (a dog they had accidentally let go the night before while loading it in the van)  – it was Officer Keith who immediately responded as he knew about the high priority status Scott Griggs' office had given the pack.  Officer Keith finished up a call??and then came to the scene and helped confine the dog in his squad car until Animal Services could arrive.

When I protested that we shouldn't put the dog in the squad car because the large dog might try to tear up the car, or worse, it might answer the call of nature in the back seat Officer Keith calmly said that there wasn't anything that the dog could do that a perp hadn't already done back there.

I learned wild dogs and perpetrators are very similar, so a police car is conveniently equipped to handle unruly dogs. It has a cage to protect the driver and can pretty easily be cleaned out with a fire hose if need be. Officer Keith's willingness to put the dog in the car and drive the dog to Animal Service himself, if need be, helped us continue to reduce the pack numbers and helped diffuse a growing aggressive dog problem.

So if you're wondering if you should sign up for NOCUPP this year, I can tell you first hand NOCUPP understands the unique needs of your neighborhood and protects you and your family in ways you never dreamed of.  This is just one of many things NOCUPP has done, but this is the thing Gypsy Dog Ops would like to thank NOCUPP for the most.

This last weekend it was a great honor for us to bring the formerly feral head of the wild dog pack, Tasha, out for a pet from Officer Keith. I know it is just as much fun for him to watch her grow into a domesticated success story as it is for us. We are very glad Officer Keith is part of our village.

April 15th, 2013
We received the following postive feedback from a NOCUPP member this week:
Officer Huber is my sons new hero! Gavin and I had a brief encounter with Officer Huber at our home when he checked in with us on a vacation watch call we had placed.

My son, having a slight obsession with law enforcement ask him several questions and Officer Huber told Gavin he would stop by in a few days to see if he had been a "good boy" at school.

Well, unfortunately Officer Huber wasn't able to keep that date, however, this is what we found waiting for us on our front door step today. Please see pictures.

I really hope he understands what a huge impact he made on my son today. Thank you Officer Huber and NOCUPP for being such great neighbors.

March 14th, 2013

I had a great recent experience that proves how useful this is.

About 10 days ago I left a message on the telephone line as advised about going to [out of own] for a week and requesting supervision. I noted that I would be back in Dallas late in the 25th

the next day late in the afternoon I was unloading groceries from the car to the house when I noted a Dallas police car driving on Edgefield towards Kessler Parkway, it stopped and hesitated for some time before driving on.

I am certain that they knew that my house was under surveillance, decided that I was okay and drove on.

I'm so happy with my annual investment and appreciate your contribution so much

January 11th, 2013

WELCOME TO OUR NEW WEBSITE

We're proud to unveil our newly redesigned website. The NOCUPP board feels this redesign will make it easier than ever for you to get the information you need. Check back often for timely news about crime activity in your neighborhood, and about all the things NOCUPP is doing to keep our neighborhoods safe.

November 12th, 2012

Areas of North Oak Cliff have continued to see problems with a pack of stray dogs. Animal Control picked up several dogs from a pack in the Winnetka Heights area, but they are still looking for the rest of the pack. From Councilman Scott Griggs' office:
If you have tips of stray dogs in your neighborhood please follow instructions below:
If someone is being actively menaced or attacked by a dog, call 911. If it isn't an emergency but you see dogs loose in the area, please note as much information as you can about them (number, color, location, direction of travel, etc.). During business hours, contact the Animal Rapid Response line at  214-670-FAST (3278). If it's after hours, please call 311 (For mobile phones, call 214-670-5111) and be patient. Please also pass along the information to our office, so that we can ensure Animal Services management is on the case. Pictures and videos are gladly accepted by us.

Animal Services can't dispatch its officers based on each report, so they compile the reports from 311 and other sources on a weekly basis to plan systematic sweeps of areas with frequent reports of dog problems.
Thank you for assistance with catching these dogs!

November 12th, 2012

We are halfway through the fall membership drive for NOCUPP. We need more members. If you have not joined or renewed please do so now. NOCUPP is entirely member supported and the number of patrol hours for each neighborhood is based directly on how many paying memberships we have from KNU neighbors. If you have any questions on NOCUPP or would like membership forms please contact us.

November 12th, 2012

On Sunday, October 28, 2012 there was an aggravated robbery of a store at Colorado and Beckley which resulted in hostage being taken. An alert went out to DPD by radio and a DPD police car chased the suspect through the KNU neighborhood while the suspect was pointing his gun out the window. While working patrol for NOCUPP our own Detective Huber responded to the radio call. He intercepted the suspect when he came into KNU on Colorado Blvd. When the suspect crashed his vehicle into a KNU yard, Detective Huber placed his patrol car between the suspect and some children who were playing nearby to protect them. The hostage escaped the car there. Detective Huber remained with the hostage while the suspect then managed to drive away down Lausanne, but he was quickly apprehended in the Kings Highway Neighborhood.

This was an unusual and scary experience for our neighborhood, thankfully no injuries occurred except for the suspect who was injured when apprehended and arrested on several counts.

The NOCUPP board wants to officially express our thank you to Detective Huber for his efforts to protect the children and we are grateful that a NOCUPP patrol was able to help in this situation. If you see him, please give a personal thank you to Detective Huber as well. This is an example of why NOCUPP can be so important for us as our member supported patrol can often respond to calls in our neighborhood much faster than regular DPD patrols.